Perbandingan Bahan Bakar Minyak Hasil Dari Pengolahan Sampah Plastik Pp Dan Pe Berbasis Metode Pirolisis
Keywords:
Pyrolysis, Plastic Waste Processing, Polyethylene, Polypropylene, Plastic Fuel
Abstract
ABSTRAK
Bahan bakar merupakan hal yang sangat penting dalam perkembangan teknologi otomotif. Bahan bakar yang masih sangat populer digunakan saat ini adalah bahan bakar fosil. Seiring perkembangan zaman banyak peneliti yang mencari sumber bahan bakar alternatif, mengingat terbatasnya jumlah bahan bakar fosil di bumi. Salah satu alternatif yang cukup menarik perhatian adalah bahan bakar olahan plastik. Plastik yang tadinya merupakan ancaman terbesar dalam pencemaran lingkungan dapat diolah menjadi bahan bakar dengan metode pirolisis. Dalam penelitian ini dilakukan pengujian bahan bakar minyak yang dihasilkan dengan jenis sampah plastik PP dan PE menjadi variabel terikatnya. Dari kedua jenis plastik, Plastik PP memiliki prosentase hasil minyak 87%, sedangkan plastik jenis PE prosentasenya 85%. Pada hasil pengujian massa jenis bahan bakar minyak hasil pirolisis berkisar 0,716-0,770 g/mL dengan massa jenis terendah adalahh bensin PE dan tertinggi adalah solar PE. Untuk nilai RON yang dimiliki bensin hasil pirolisis mencapai 88,8 untuk kedua jenis plastik. Disamping itu, angka Cetane solar yang dihasilkan masih tergolong rendah yaitu 42,5 untuk solar PP dan 43 untuk solar PE. Hal ini menunjukkan solar yang dihasilkan dari proses pirolisis membutuhkan perlakuan tambahan seperti pemurnian timbal ataupun dicampuran dengan biodiesel untuk meningkatkan angka Cetane-nya agar dapat digunakan untuk mesin diesel pada umumnya.
Kata Kunci : Pirolisis, Pengolahan Sampah Plastik, Polyethylene, Polypropylene, Bahan Bakar Plastik
ABSTRACT
Fuel is one of vital role in the expansion of automotive technology. The most popular fuel which is still used by the people is Fossil fuels. Along with the times, many researchers are looking for alternative fuel sources. Given the limited amount of fossil fuels on earth, has attracted much attention from reasearchs team to find out the alternative fuel sources. One of the interesting alternative source is fuel from processed plastic. Plastic which was once the biggest threat of pollution for the environment can be processed  into the fuels by the pyrolysis method. These study were carried out to analyze the fuel oil which produced with PP and PE plastic as the dependent variable. From the two types of plastic, PP plastic has an oil yield percentage of 87%, while the percentage of PE plastic is 85%. In the test results, the density of the pyrolysis fuel oil ranged from 0.716-0.770 g/mL with the lowest density being PE gasoline and the highest being PE diesel. RON of  pyrolysis gasoline reaches 88.8 for both types of plastic. In addition, the cetane number of diesel produced is still relatively low, namely 42.5 for PP diesel and 43 for PE diesel. This shows that diesel produced from the pyrolysis process requires additional treatment such as purification of lead or mixed with biodiesel to increase its cetane number so that it can be used for diesel engines in general.
Keywords: Pyrolysis, Plastic Waste Processing, Polyethylene, Polypropylene, Plastic Fuel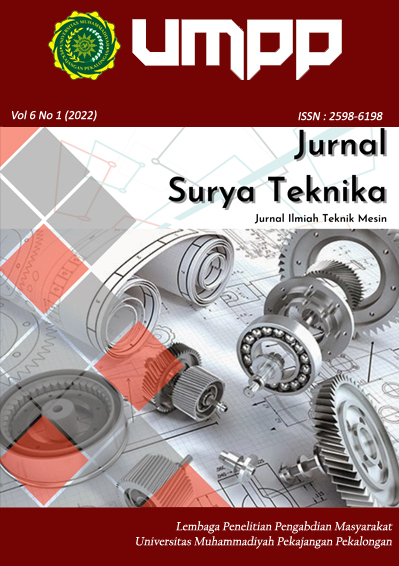 Downloads