Efek Paket Pelatihan Pesan Zewa pada Perilaku Kesehatan Warga PKK dan Ranting Aisyiyah
Keywords:
Plastic waste; plastic diet; mediokres.
Abstract
During the Covid-19 pandemic, activities outside the home were restricted causing people to rely on ready-to-eat food and food delivery, which increased waste production. People are not aware that waste can pollute the environment, cause health problems, decrease body immunity which facilitates the spread of Covid-19. Training on healthy behavior packages and waste management as an effort to optimize community health and productivity. The aim can be proven the effectiveness of the pesan  zewa training (waste management and zero waste movement) on the health behavior of housewives. The method uses a pre-experimental design with a pre-posttest only design approach. The sample method is cluster sampling, consisting of 24 participants. The instrument is a 15-item questionnaire, normality test using Shapiro-Wilk and Wilcoxon Signed Ranks Test analysis. The results showed a significant change in behavior indicated by the results of P value 0.000 <0.005. The provision of pesan zewa training packages through strengthening health protocols, improving environmental health through a plastic diet, making mediocres as a plant medium and eco-enzyme have a positive impact on residents' healthy behavior.
References
P. W. & Azizah, 'Penyuluhan pengelolaan sampah plastik dengan', E-DImas, vol. 07, pp. 60–67, 2016.
F. D. Muliawati, 'Indonesia Penyumbang Sampah Terbesar Kedua di Dunia, Limbah Makanan Mendominasi', IDX Cannel, p. 1, 2021, [Online]. Available: https://www.idxchannel.com/economics/indonesia-penyumbang-sampah-terbesar-kedua-di-dunia-limbah-makanan-mendominasi.
N. Karuniastuti, 'BAHAYA PLASTIK', Forum Teknol., vol. 03, no. 1, 2016, [Online]. Available: http://pusdiklatmigas.esdm.go.id/file/t2-_Bahaya_Plastik_---_Nurhenu_K.pdf.
P. KemKes, 'Gerakan Masyarakat Hidup Sehat'. 2017, [Online]. Available: http://promkes.kemkes.go.id/germas.
A. Alqab, S; Zulianto & Gunawan, 'Pengolahan limbah plastik berbasis mitra berkegiatan lingkungan', vol. 1, pp. 77–85, 2018, [Online]. Available: http://jurnal.untan.ac.id/index.php/JPLP2KM.
Y. Febriyani & Purwati, 'Pengaruh Pendidikan Kesehatan Tentang Diare Terhadap Perilaku Ibu dalam Pencegahan Diare di Puskesmas Gamping I SLeman Yogyakarta', 2016, [Online]. Available: http://digilib.unisayogya.ac.id/1863/1/Naskah Publikasi Pdf.pdf.
A. N. Ramadhani, D. L. Romadhoni, and F. I. Kesehatan, 'PENULARAN COVID-19 DI KOTA SURAKARTA', 2020.
R. Setyowati and S. A. Mulasari, 'Pengetahuan dan Perilaku Ibu Rumah Tangga dalam Pengelolaan Sampah Plastik The Level of Housewife ' s Knowledge and Behavior in Managing Plastic Waste', J. Kesehat. Masy. Nas., vol. 7, no. 12, pp. 562–566, 2013.
S. Hidayah, 'Partisipasi Masyarakat Dalam Pengelolaan Sampah Skala Rumah Tangga Di Kecamatan Sangkapura, Kabupaten Gresik', Environ. Dev., pp. 1–36, 2018.
S. S. N. A, S. A. Mulasari, F. K. Masyarakat, and U. A. Dahlan, 'Pengetahuan, Sikap, dan Perilaku Pengelolaan Sampah pada Karyawan di Kampus', Kes Mas J. Fak. Kesehat. Masy. Univ. Ahmad Daulan, vol. 11, no. 1, pp. 22–27, 2017, doi: 10.12928/kesmas.v11i1.4212.
Adventus, Buku Ajar Promosi Kesehatan. 2019.
J. Roberts, 'Using Health Education Curricula as a Tool to Influence Behavior Change Joni Roberts , DrPH , CHES , Juanyce Taylor , PhD , Linda Croff-Poole , MPH School of Health Related Professions The University of Mississippi Medical Center , Jackson , MS 39216', no. October 2015, 2016, doi: 10.13140/RG.2.1.2024.4249.
A. L. Duckworth and J. J. Gross, 'Behavior change', Organ. Behav. Hum. Decis. Process., vol. 161, no. S, pp. 39–49, 2020, doi: 10.1016/j.obhdp.2020.09.002.
Z. Khalili, M. Navaee, M. Shakiba, and A. Navidian, 'The effect of a supportive-educational intervention on maternal-fetal attachment of pregnant women facing domestic violence: A randomized controlled trial', Iran. J. Psychiatry Behav. Sci., vol. 14, no. 1, 2020, doi: 10.5812/ijpbs.92070.
D. B. Wibaningwati and A. R. Rusli, 'IbM PENGELOLAAN SAMPAH RUMAH TANGGA SEBAGAI UPAYA MENCIPTAKAN KAMPUNG PRO IKLIM ( PROKLIM )', SenarPro UMM, pp. 480–487, 2016.
B. Rangarajan, 'a Study on Impact of Emplpoyee ' S Age Towards Job Crafting Behaviour ( Work Engagement and Job Satisfaction ) in Indian It Industry', Wesley. J. Res., vol. 14, no. Ix, 2021.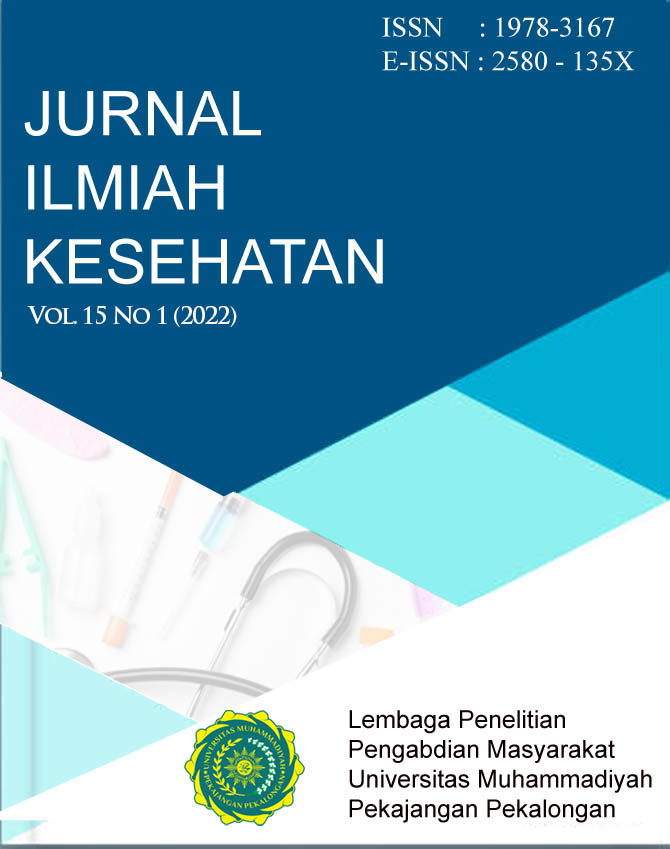 Downloads