Stimulasi Perkembangan Motorik Halus Anak Usia 2-3 Tahun
Abstract
Abstrak. Kepuasan pasien adalah suatu tingkat perasaan pasien yang timbul sebagai akibat dari kinerja layanan kesehatan yang diperoleh pasien  setelah membandingkannya dengan apa yang diharapkan. Masyarakat dan kepuasan pelanggan didefinisikan sebagai evaluasi purnabeli, dimana persepsi terhadap kinerja alternatif jasa pelayanan yang dipilih memenuhi harapan atau melebihi harapan sebelum pelayanan. Apabila kinerja tidak dapat   memenuhi   harapan,   maka   yang   terjadi   adalah ketidakpuasan. Pemahaman mengenai ketidakpuasaan lebih dominan dibandingkan dengan kepuasaan pelanggan. Dalam hal ketidakpuasaan, riset banyak diarahkan pada aspek disonansi dan perilaku komplain. Pengukuran kepuasan menunjukkan bahwa upaya untuk mengukur tingkat kepuasaan pasien tidak mudah, karena upaya untuk memperoleh informasi yang diperlukan untuk mengukur tingkat kepuasaan pasien akan berhadapan dengan suatu kendala kultural, yaitu terdapatnya suatu kecenderungan masyarakat     yang enggan atau tidak mau mengemukakan kritik, apalagi terhadap fasilitas layanan kesehatan milik pemerintah. Tujuan penelitian ini adalah untuk mengetahui Gambaran Tingkat Kepuasan Pasien Rawat Jalan di Puskesmas Kedungwuni I Kecamatan Kedungwuni Kabupaten Pekalongan. Penelitian ini merupakan penelitian descriptive  study. Dalam penelitian ini populasinya adalah seluruh pasien rawat jalan di puskesmas Kedungwuni I Pekalongan dengan mengambil sample sebanyak 100 responden. Hasil penelitian ini adalah tingkat kepuasan pasien pasien rawat jalan yaitu 69 responden  (69,0%) menyatakan puas, dan 31 responden (31,0%) menyatakan tidak puas.
 
Kata Kunci      :  Stimulasi, Motorik Halus, Anak Usia 2-3 Tahun
 
 
Fine Motor Development stimulation 2-3 Year Olds
Abstract. Patient satisfaction is a patient's level of feeling that arise as a result of the performance of health services obtained patients after comparing it to what is expected. Community and customer satisfaction is defined as purnabeli evaluation, where the perception of the performance of services selected alternative meets expectations or exceeds expectations before servicing. If performance can not meet the expectations, then there is dissatisfaction. Understanding of the dissatisfaction is more dominant than the customer satisfaction. In the case of dissatisfaction, the research was focused on dissonance and behavioral aspects of the complaint. Satisfaction measurement showed that attempts to measure the level of satisfaction of patients is not easy, as it attempts to obtain the information necessary to measure the level of satisfaction of patients will be faced with an obstacle cultural, namely the presence of a tendency for people who are reluctant or unwilling to express criticism, especially on health care facilities government property. The purpose of this study was to determine Overview Outpatient Satisfaction in Puskesmas Kedungwuni I Kedungwuni District of Pekalongan. This research is a descriptive study. In this study population was around the outpatients in the clinic Kedungwuni I Pekalongan by taking a sample of 100 respondents. Results of this study was the level of patient satisfaction outpatients is 69 respondents (69.0%) said they were satisfied, and 31 respondents (31.0%) are not satisfied.
Keywords: Stimulation, Fine Motor, Children Aged 2-3 Years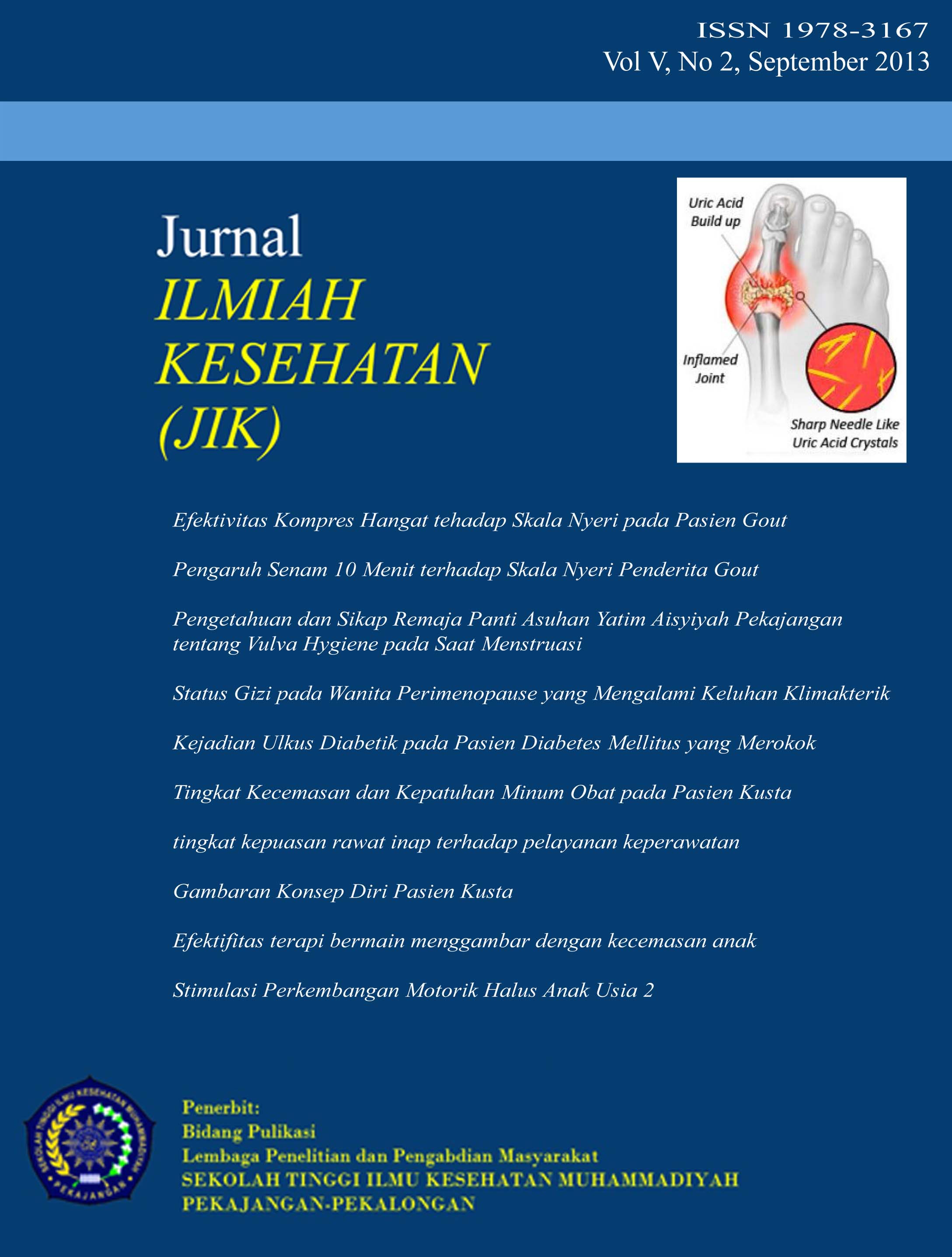 Downloads