Efektifitas Terapi Bermain Menggambar Terhadap Kecemasan Anak Usia Pra Sekolah Akibat Hospitalisasi
Abstract
Abstrak. Hospitalisasi pada anak merupakan suatu proses perawatan anak di rumah sakit dengan alasan yang berencana ataupun darurat untuk menjalani terapi dan perawatan sampai pemulangannya. Hospitalisasi sering menimbulkan kecemasan bagi anak-anak. Perawat dapat mengurangi kecemasan anak-anak tersebut dengan terapi bermain. Terapi bermain yang tidak banyak mengeluarkan energi seperti terapi bermain aktif menggambar bisa digunakan untuk memenuhi kebutuhan fisik dan psikososial anak selama hospitalisasi.  Penelitian ini bertujuan untuk mengetahui keefektifan terapi bermain menggambar terhadap kecemasan anak usia pra sekolah akibat hospitalisasi. Penelitian ini dilakukan di ruang Flamboyan RSUD Batang Kabupaten Batang. Desain penelitian ini menggunakan descriptive cross-sectional study yaitu penelitian yang dilakukan secara cross-sectional (satu titik waktu tertentu pada populasi atau penelitian pada sampel yang merupakan bagian dari populasi. Jumlah sample pada penelitian ini 15 responden dan menggunakan teknik secara purposive sampling. Hasil penelitian ini menunjukkan bahwa setelah dilakukan terapi bermain aktif menggambar mengalami penurunan, yaitu skor kecemasan The OSBD sebelum diberikan terapi bermain aktif menggambar paling rendah 7 dan paling tinggi 16 dan setelah dilakukan terapi bermain aktif menggambar mengalami penurunan yaitu skor kecemasan The OSBD paling rendah 0 dan paling tinggi 9.
Kata Kunci : Terapi Bermain Menggambar, Kecemasan, Hospitalisasi Active Therapeutic Play by Drawing
 
Effectiveness Active Therapeutic Play by Drawing Against Anxiety Preschooler Due to Hospitalization
Abstract. Hospitalization in children is a child-care process in hospitals for reasons that are planning or emergency for therapy and treatment up repatriation. Hospitalization often cause anxiety for children. Nurses can reduce the anxiety of children with play therapy. Play therapy who do not spend a lot of energy such as active play therapy drawing can be used to meet the physical and psychosocial needs of children during hospitalization. This study aims to determine the effectiveness of therapy play draw against anxiety preschool children due to hospitalization. This research was conducted at the Flamboyan space Hospital Batang Batang. Design of this study using descriptive cross-sectional study is research done by cross-sectional (one point in time in the population or research on samples that are part of the population. The sample in this study of 15 respondents and using the technique with purposive sampling.. Results This research showed that after therapy is playing an active drawing to decline, anxiety scores The OSBD before therapy is given to active play to draw the most low 7 and the highest 16 and after therapy play an active drawing a decline that anxiety scores The OSBD lowest 0 and most 9 high.
Kata Kunci : Terapi Bermain Menggambar, Kecemasan, Hospitalisasi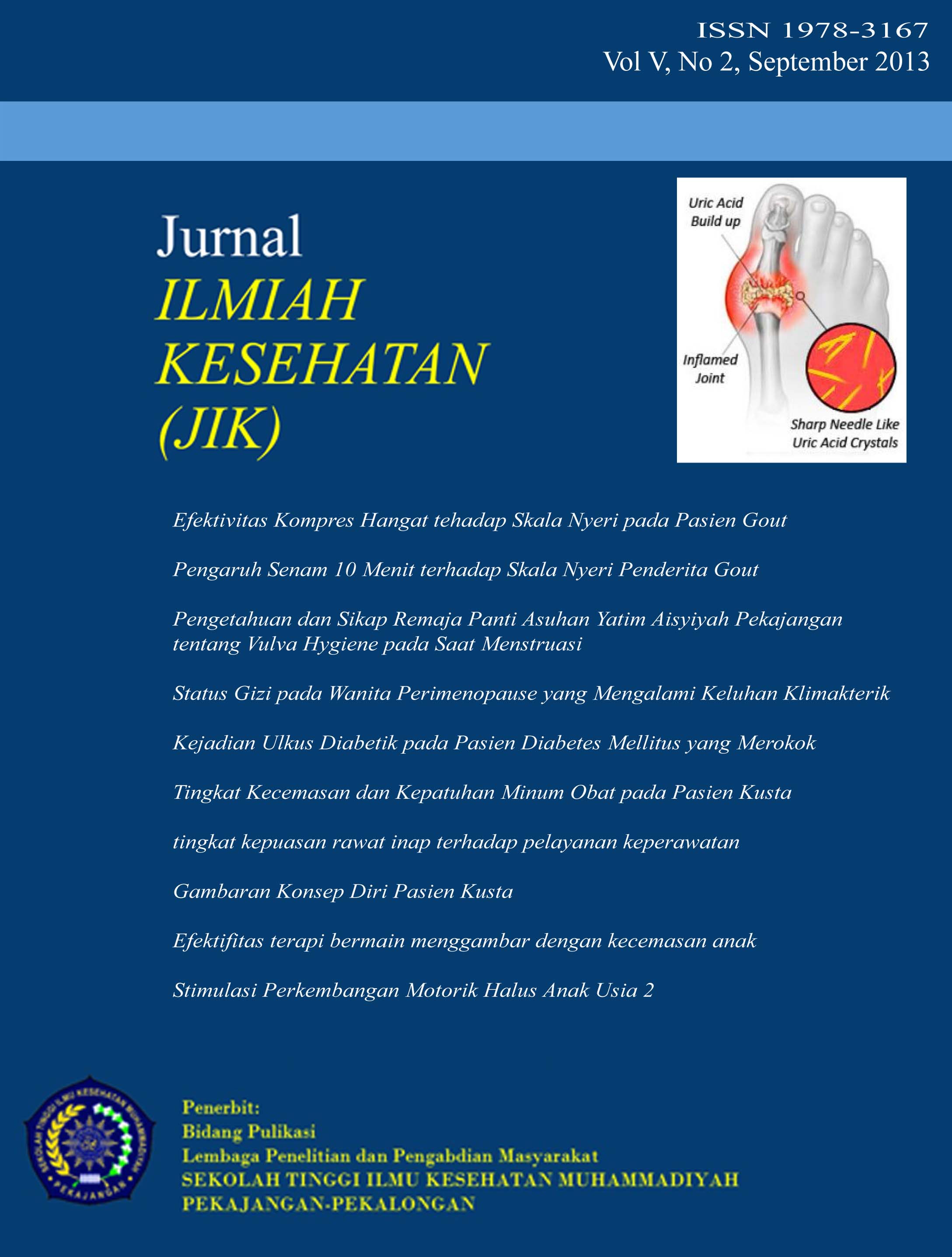 Downloads