Tingkat Kecemasan dan Kepatuhan Minum Obat pada Pasien Kusta
Abstract
Abstrak. Kusta merupakan penyakit menahun yang menyerang syaraf tepi, kulit dan organ tubuh manusia yang dalam jangka panjang mengakibatkan sebagian anggota tubuh penderita tidak dapat berfungsi sebagaimana mestinya. Kejadian kusta baik baru maupun lama di Kabupaten Pekalongan pada tahun 2009 sebesar 123 kasus dengan jumlah kematian 8 orang. Timbulnya tanda dan gejala menimbulkan kecemasan pada penderita maupun keluarga karena kurangya pengetahuan tentang penyakit tersebut dan timbulnya perasaan negatif karena keadaan yang ada, sehingga penderita enggan untuk berobat. Penelitian ini bertujuan untuk mengetahui gambaran tingkat kecemasan dengan kepatuhan minum obat pada penderita kusta di Kecamatan Bojong dan Kecamatan Buaran Kabupaten Pekalongan Tahun 2013. Desain penelitian ini menggunakan penelitian deskriptif. Teknik pengambilan sampel dengan menggunakan sampel jenuh dengan jumlah 32 responden. Alat pengumpulan data dengan menggunakan kuesioner dalam bentuk check list. Hasil penelitian didapatkan sebanyak 17 responden mengalami tingkat kecemasan ringan dan 15 responden mengalami tingkat kecemasan sedang. Sedangkan kepatuhan minum obat didapatkan 20 responden yang patuh minum obat, dan 12 responden tidak patuh minum obat. Kepatuhan minum obat menjadi aspek penting bagi klien kusta, karena kepatuhan minum obat harus dilakukan oleh klien kusta untuk mencapai derajat kesehatan yang optimal, dalam hal ini adalah kesembuhan.
Kata Kunci                  : Kecemasan, Kepatuhan Minum Obat, Kusta
Anxiety levels and Drink Drug Compliance in Patients with Leprosy
Abstract. Leprosy is a chronic disease that attacks the nervous edge, skin and organs of the human body in the long run lead to some members of the patient's body can not function properly. The incidence of leprosy, both new and old in Pekalongan in 2009 amounted to 123 cases with 8 deaths. The onset of signs and symptoms cause anxiety in patients and families because of a lack of knowledge about the disease and the onset of negative feelings due to the existing situation, so that patients are reluctant to seek treatment. This study aims to describe the level of anxiety with medication adherence in patients with leprosy in the district and sub-district Bojong Buaran Pekalongan 2013. The design of this research using descriptive research. The sampling technique using a sample saturated with a number of 32 respondents. Data collection tools by using the questionnaire in the form of check list. The result showed a total of 17 respondents experiencing mild anxiety level and 15 respondents experienced a moderate level of anxiety. While medication adherence obtained 20 respondents who dutifully taking medication, and 12 respondents did not obey taking medication. Medication adherence is an important aspect for clients leprosy, since medication adherence should be done by leprosy clients to achieve optimal health status, in this case is healing.
Keywords: Anxiety, Drug Drinking Compliance, Leprosy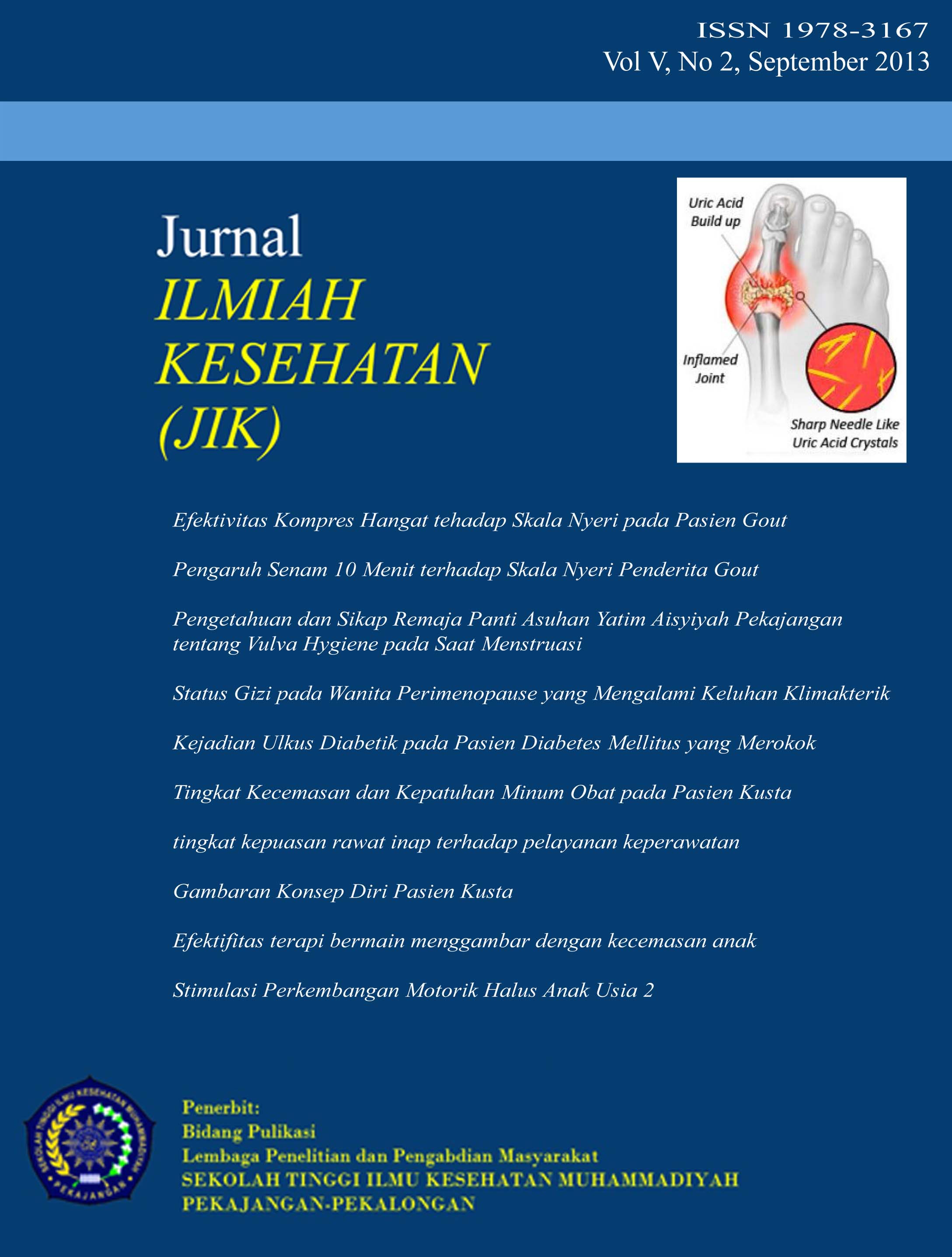 Downloads