Kejadian Ulkus Diabetik Pada Pasien Diabetes Melitus Yang Merokok
Abstract
Abstrak. Diabetes Melitus merupakan penyakit sistemis, kronis dan multifaktorial yang dicirikan dengan hiperglikemia dan hiperlipidemia. Angka prevalensi Diabetes Melitus di dunia telah mencapai jumlah wabah atau epidemik. WHO memperkirakan pada Negara berkembang tahun 2025 akan muncul 80% kasus baru. Penderita Diabetes dianjurkan untuk tidak merokok, karena merokok dapat memperlambat kerja aliran darah dalam kulit dan menyebabkan lambat dalam menyerap insulin ke dalam darah, serta menjadikan efektivitas kerja insulin dalam darah itu sendiri menjadi berkurang. Penelitian bertujuan untuk mengetahui Kejadian Ulkus Diabetik pada pasien Diabetes Melitus yang Merokok di Wilayah Kerja Puskesmas Kedungwuni II Kabupaten Pekalongan. Desain penelitian ini menggunakan penelitian deskriptif dengan pendekatan cross-sectional yang pengumpulan datanya dilakukan pada satu titik waktu. Teknik pengambilan sampel dalam penelitian ini menggunakan teknik purposive sampling dengan jumlah 40 responden. Alat ukur yang digunakan dalam penelitian ini menggunakan kuesioner sebagai instrumen pengumpulan data. Hasil analisis Pasien Diabetes Melitus dalam kategori Merokok adalah 27 Pasien (67,5%) dan Pasien yang Tidak Merokok sebesar 13 Pasien (32,5%). Kejadian Ulkus Diabetik pada Pasien Diabetes Melitus yang Merokok yang mengalami Ulkus Diabetik sebesar 27 pasien (100%). Penanggulangan dan pencegahan Ulkus Diabetik harus ditingkatkan dengan memberikan penyuluhan kepada pasien dan keluarga tentang penyakit Diabetes Melitus, penatalaksanaan secara umum, obat-obatan, perencanaan makan, pola gaya hidup sehat termasuk berhenti merokok.
Kata Kunci                  : Ulkus Diabetik, Merokok
The Incidence of Diabetic Ulcers in Smokers Patients Diabetes Mellitus

Abstract. Diabetes mellitus is a systemic disease, chronic and multifactorial characterized by hyperglycemia and hyperlipidemia. The prevalence rate of diabetes mellitus in the world has reached the number of outbreaks or epidemics. WHO estimates that in developing countries in 2025 will appear 80% of new cases. Diabetics are encouraged not to smoke, because smoking can slow down blood flow in the skin and cause slow in absorbing the insulin into the blood, and make the effectiveness of insulin in the blood itself is reduced. The study aims to determine the incidence of diabetic ulcers in patients with diabetes mellitus who smoke in Puskesmas Kedungwuni II Pekalongan. Design This study uses descriptive study with cross-sectional data collection is done at one point in time. The sampling technique in this study using purposive sampling with 40 respondents. Measuring instruments used in this study using a questionnaire as data collection instruments. Diabetes Mellitus Patients analysis results in the category of smoke were 27 patients (67.5%) and patients were not smoking at 13 patients (32.5%). The incidence of Diabetic Ulcers in Patients with Diabetes Mellitus who smoke who have diabetic ulcers by 27 patients (100%). Diabetic Ulcers reduction and prevention should be increased to provide counseling to patients and families about the disease diabetes mellitus, general management, medication, meal planning, healthy lifestyle patterns including quitting smoking.
Keywords: Diabetic Ulcers, Smoking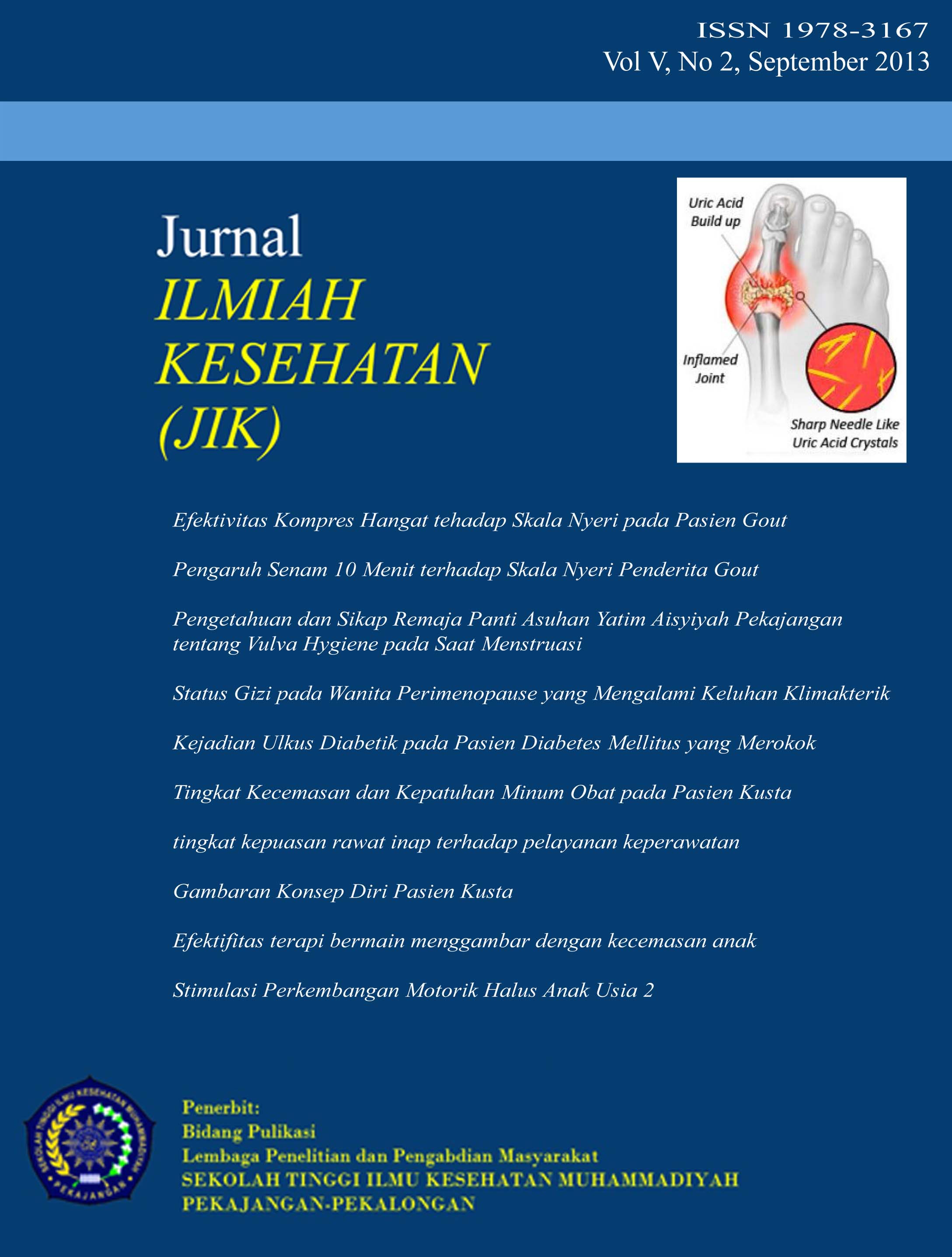 Downloads