Pengetahuan dan Sikap Remaja Panti Asuhan Yatim (PAY) Aisiyah Pekajangan tentang Vulva Hygiene Pada Saat Menstruasi
Abstract
Abstrak. Kesehatan reproduksi merupakan masalah vital dalam pembangunan kesehatan umumnya karena tidak akan dapat diselesaikan dengan jalan kuratif saja, namun justru dengan upaya preventif. Pengetahuan dan ketrampilan vulva hygiene merupakan salah salah satu upaya untuk mencegah dan mengontrol infeksi, mencegah kerusakan kulit, meningkatkan kenyamantan serta mempertahankan kebersihan diri. Hygiene menstruasi dipengaruhi oleh tingkat pengetahuan tentang kesehatan reproduksi. Setiap anak perempuan yang menginjak dewasa akan mengalami menstruasi, akan tetapi tidak semua anak perempuan mendapatkan informasi tentang vulva hygiene atau kesehatan selama menstruasi, sehingga perlu dilakukan pengkajian tentang tingkat pengetahuan dan sikap remaja tentang vulva hygiene pada saat menstruasi di PAY Aisiyah di Pekajangan. Penelitian ini menggunakan metode penelitian survey deskriptif, dengan metode analisis univariat yang melibatkan 23 remaja  di PAY Aisyiyah Pekajangan sebagai subjek yang diperoleh dengan menggunakan teknik pengambilan sampel total sampling. Hasil penelitian menunjukkan 43,47% responden mempunyai pengetahuan yang kurang tentang vulva hygiene pada saat menstruasi dan 34,78% responden mempunyai sikap yang cukup tentang vulva hygiene pada saat menstruasi yang berarti bahwa pengetahuan dan sikap remaja terkait vulva hygiene masih belum baik. Institusi hendaknya meningkatkan Tridarma perguruan tinggi, serta memotivasi dosen untuk melakukan pengabdian masyarakat terkait dengan peningkatan pengetahuan remaja tentang kesehatan reproduksi.
Kata kunci : menstruasi, vulva hygiene, pengetahuan, sikap.
Knowledge and Attitude of Youth PAY Aisyiyah Pekajangan about Vulva Hygiene At Menstruation
Abstract. Reproductive health is a vital issue in health development in general because it will not be resolved by way of curative alone, but rather with preventive measures. Vulva hygiene knowledge and skills is one of the efforts to prevent and control infection, prevent skin damage, increase kenyamantan and maintaining personal hygiene. Menstrual hygiene is influenced by the level of knowledge about reproductive health. Every girl who reach adulthood will menstruate, but not all girls get information on hygiene or health vulva during menstruation, so that should be an assessment of the level of knowledge and attitudes of adolescents on the vulva hygiene during menstruation in PAY Aisiyah in Pekajangan. This study used a descriptive survey research methods, the method of univariate analysis involving 23 teenagers in Aisyiyah PAY Pekajangan as a subject obtained by using a sampling technique total sampling. The results showed 43.47% of respondents have less knowledge about the vulva hygiene during menstruation and 34.78% of respondents have an attitude that is enough about vulvar hygiene during menstruation, which means that the knowledge and attitudes of adolescents related vulvar hygiene is still not good. Institutions should improve Tridarma universities, as well as motivate lecturers to perform community service associated with an increased knowledge of adolescents about reproductive health.
Keywords: menstruation, vulvar hygiene, knowledge, attitude.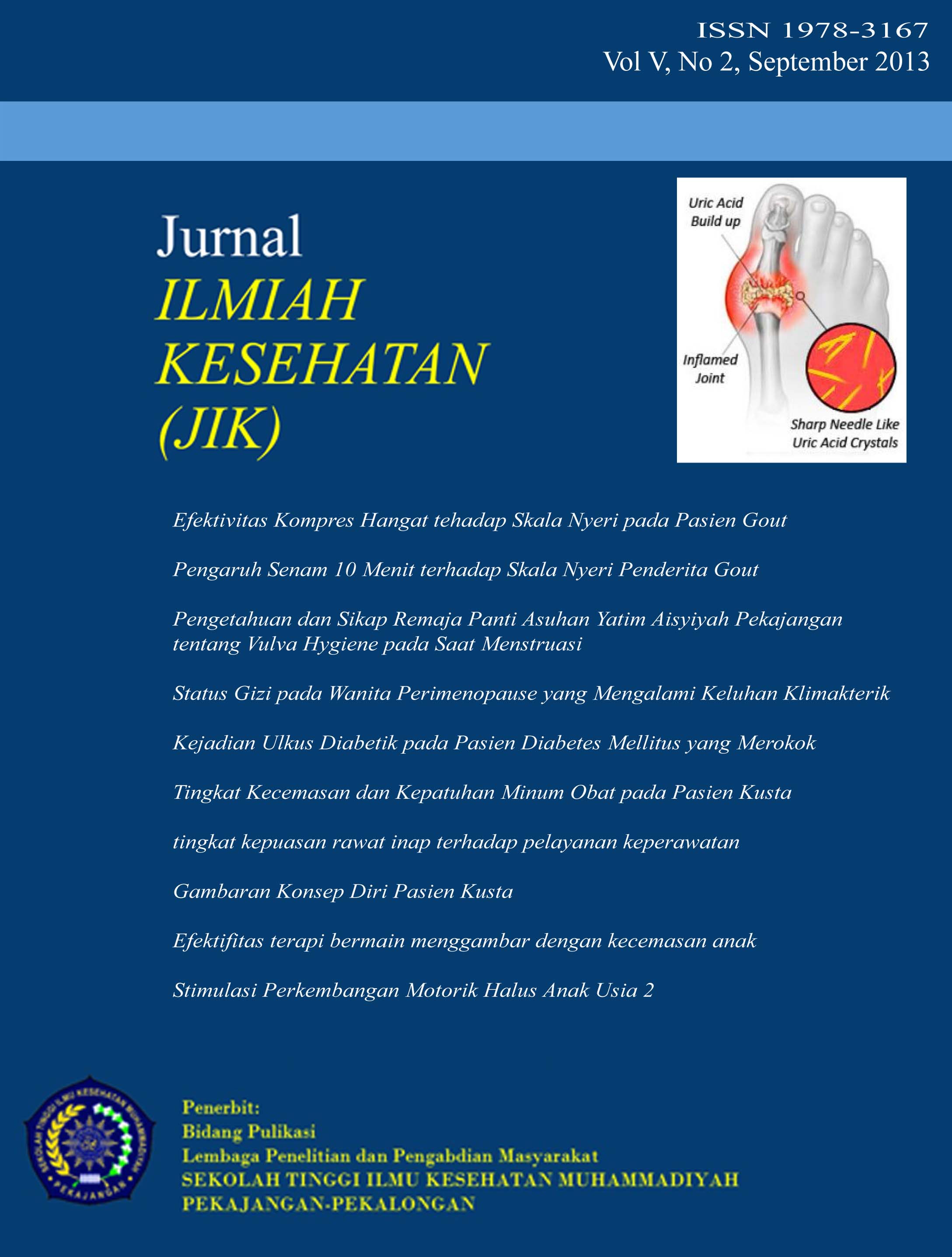 Downloads