- Antioksidan Ekstrak Etanol dan Fraksi Akar Rhyzopora stylosa Metode ABTS dan FRAP
Antioksidan Ekstrak Etanol dan Fraksi Akar Rhyzopora stylosa Metode ABTS dan FRAP
Keywords:
Akar Rhizopora stylosa; Kadar flavonoid; Aktivitas antioksidan; ABTS; FRAP
Abstract
Rhyzopora stylosa atau sering disebut bakau kecil oleh masyarakat pesisir sering digunakan untuk mengobati berbagai macaam penyakit diantaranya  diabetes, ulkus, diare analgetik, radang, nyeri dan mempercepat penyembuhan luka. Penelitian ini bertujuan untuk meneliti kadar senyawa flavonoid dalam ekstrak etanol akar Rhyzopora stylosa dengan metode komplek AlCl3 dan aktivitas antioksidan dengan metode ABTS  (2,2 azinobis (3-etilbenzotiazolin)-6-asam sulfonat) dan FRAP (Ferric Reducing Antioxidant Power) terhadap ekstrak etanol dan 3 fraksi akar Rhyzopora stylosa. Ekstraksi dilakukan dengan metode maserasi dengan etanol 96% sebagai pelarut. Fraksinasi dilakukan dengan partisi cair-cair dengan pelarut etanol, n-heksane dan etil asetat. Penetapan kadar flavonoid diukur dengan komplek AlCl3 dengan kuersetin sebagai baku pembanding. Aktivitas antioksidan ditentukan dengan metode ABTS dan FRAP. Dari pengujian kadar flavonoid didapatkan hasil  kadar flavonoid dalam ektrak etanol akar Rhyzopora stylosa sebesar 18.803 ± 0.198 QE. Aktivitas antioksidan dengan metode ABTS dan FRAP didapatkan fraksi etil asetat memiliki aktivitas antioksidan tertinggi dengan nilai masing-masing 18,553 ± 1,440 ppm dan 24.636 ± 0.128 mgAAE/g. Berdasarkan tabel aktivitas antioksidan fraksi etil asetat termasuk dalam kategori antioksidan yang sangat kuat karena kurang dari 50 ppm
References
K. Khaira, "Menangkal radikal bebas dengan anti-oksidan," Sainstek J. Sains dan Teknol., vol. 2, no. 2, pp. 183–187, 2016.
K. Sayuti and R. Yenrina, Antioksidan Alami dan Sintetik, 1st ed. Padang: Padang : APPTI, 2015.
S. Winarti, "Fungsional," Makanan Fungsional. Yogyakarta Graha Ilmu, 2010.
M. Kainuma et al., "Botany, uses, chemistry and bioactivities of mangrove plants I: Rhizophora stylosa," ISME/GLOMIS Electron J, vol. 13, pp. 12–17, 2015.
W. T. Wahyuni, L. K. Darusman, and N. K. Surya, "Potency of rhizopora Spp. extracts as antioxidant and inhibitor of acetylcholinesterase," Procedia Chem., vol. 16, pp. 681–686, 2015.
M. Nebula, H. S. Harisankar, and N. Chandramohanakumar, "Metabolites and bioactivities of Rhizophoraceae mangroves," Nat. Products Bioprospect., vol. 3, no. 5, pp. 207–232, 2013.
D. I. Miranti, H. Ichiura, and Y. Ohtani, "The Bioactive Compounds and Antioxidant Activity of Food Products of Rhizophora stylosa Fruit (Coffee and Tea Mangrove)," Int. J. For. Res., vol. 2018, 2018.
A. H. Maravirnadita, "Uji Aktivitas Antioksidan Fraksi n-Heksan, Etil Asetat, dan Air dari Buah Belimbing Manis (Averrhoa carambola) dengan Metode DPPH," Skripsi, pp. 1–14, 2019.
A. Aminah, N. Tomayahu, and Z. Abidin, "PENETAPAN KADAR FLAVONOID TOTAL EKSTRAK ETANOL KULIT BUAH ALPUKAT (Persea americana Mill.) DENGAN METODE SPEKTROFOTOMETRI UV-VIS," J. Fitofarmaka Indones., vol. 4, no. 2, pp. 226–230, 2017, doi: 10.33096/jffi.v4i2.265.
S. Noer, R. D. Pratiwi, E. Gresinta, P. Biologi, and F. Teknik, "Penetapan Kadar Senyawa Fitokimia (Tanin, Saponin Dan Flavonoid Sebagai Kuersetin) Pada Ekstrak Daun Inggu (Ruta angustifolia L.)," J. Ilmu-ilmu MIPA. ISSN, pp. 2364–2503, 2018.
W. Ulfah, "Aktivitas Antioksidan Ekstrak N-Heksan , Etil Asetat dan Etanol Daun Mobe ( Artocarpus Lacucha Buch-Ham .) dengan Metode Pemerangkapan ABTS," 2018.
S. Maryam, M. Baits, and A. Nadia, "Pengukuran aktivitas antioksidan ekstrak etanol daun kelor (Moringa oleifera Lam.) menggunakan metode FRAP (Ferric Reducing Antioxidant Power)," J. Fitofarmaka Indones., vol. 2, no. 2, pp. 115–118, 2015.
Z. Sapiun, P. Pangalo, A. K. Imran, P. S. Wicita, and R. P. A. Daud, "Determination of Total Flavonoid Levels of Ethanol Extract Sesewanua Leaf (Clerodendrum Fragrans Wild) With Maceration Method Using UV-Vis Spectrofotometry," Pharmacogn. J., vol. 12, no. 2, 2020.
N. Y. Lindawati and S. H. Ma'ruf, "Penetapan Kadar Total Flavonoid Ekstrak Etanol Kacang Merah (Phaseolus vulgaris L.) secara Spektrofotometri Visibel," J. Ilm. Manuntung, vol. 6, no. 1, pp. 83–91, 2020.
S. Das, J. Das, A. Paul, A. Samadder, and A. R. Khuda-Bukhsh, "Apigenin, a bioactive flavonoid from Lycopodium clavatum, stimulates nucleotide excision repair genes to protect skin keratinocytes from ultraviolet B-induced reactive oxygen species and DNA damage," J. Acupunct. Meridian Stud., vol. 6, no. 5, pp. 252–262, 2013.
K. Sridhar and A. L. Charles, "In vitro antioxidant activity of Kyoho grape extracts in DPPH and ABTS assays: Estimation methods for EC50 using advanced statistical programs," Food Chem., vol. 275, pp. 41–49, 2019.
J. Kim, "Radical scavenging capacity and antioxidant activity of the E vitamer fraction in rice bran," J. Food Sci., vol. 70, no. 3, pp. C208–C213, 2005.
P. Molyneux, "The use of the stable free radical diphenylpicrylhydrazyl (DPPH) for estimating antioxidant activity," Songklanakarin J. sci. technol, vol. 26, no. 2, pp. 211–219, 2004.
D. Raharjo and H. Haryoto, "Antioxidant Activity of Mangrove Sonneratia caseolaris L using the FRAP Method," 2019.
N. A. Tristanto, D. W. Budianta, and A. R. Utomo, "Pengaruh suhu penyimpanan dan proporsi teh hijau: bubuk daun kering stevia (Stevia rebaudiana) terhadap aktivitas antioksidan minuman teh hijau stevia dalam kemasan botol plastik," J. Teknol. Pangan dan Gizi, vol. 16, no. 1, pp. 21–28, 2017.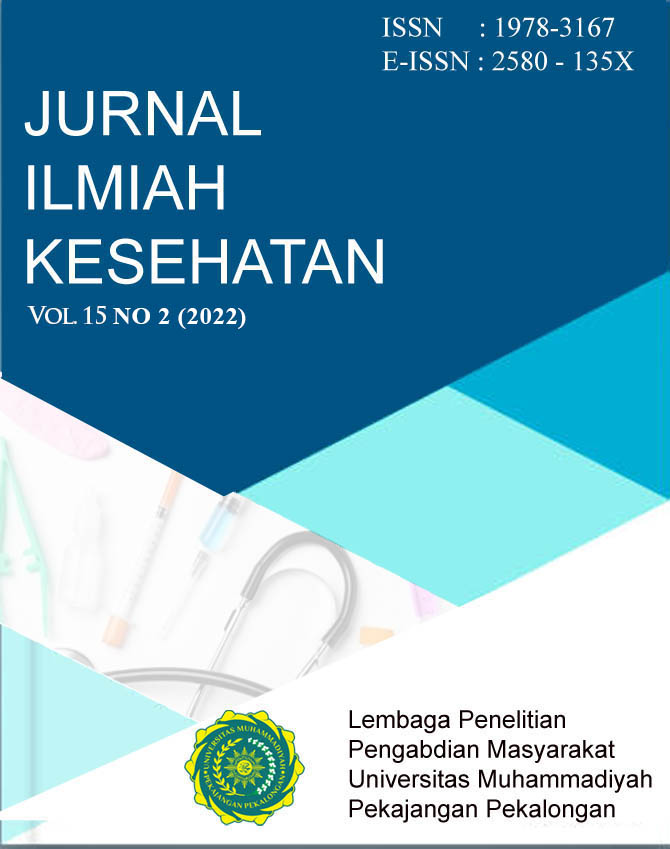 Downloads