Hubungan Faktor Sosiodemografi dengan Penggunaan Intrauterine Device (IUD)
Keywords:
Faktor sosiodemografi, keluarga berencana, intrauterine device
Abstract
Contraception in family planning is a practice that could help an individual or couples in their fertile age to plan and regulate birth. However, the 2017 Indonesian. Ngadiluwih sub-district is one of the regions with the lowest prevalence level of modern contraception in Kediri Regency, reaching 57,71% point with IUD usage of only 10,42%. The purpose of this research is to analyze the relation between sociodemographic factors and the IUD usage in Public Health Center of Wonorejo, Ngadiluwih sub-districts in 2021. This study uses observational analytic method with study design of case control. This research uses secondary data based on acceptor's medical record in Wonorejo Public Health Center from January to December 2021. The population found in this research recorded 192 acceptors. The sample size is obtained from simple random sampling and it is found that there are 56 cases and 56 controls. The data is analyzed using univariate and bivariate analysis with chi-square test that has significance of (α=0,05). The research result is obtained through 3 sociodemographic variables (p<0,05) with age, number of living children, and the age of last children. Sociodemograhic factors which are age, the number of living children and the age of last children acceptor, have a significant relation with the usage of IUD in Wonorejo Public Health Center in 2021. This research findings reinforce the needs of sociodemographic factors influence especially those of age, the number of living children and the age of last children to increase utilization of IUD service.
References
Guttmacher Institute, "Adding it up. Investing in sexual and reproductive health in low- and middle-income countries," Guttmacher Inst., 2021.
G. Sedgh, L. S. Ashford, and R. Hussain, "Unmet need for contraception in developing countries: Examining women's reasons for not using a method," Guttmacher Inst., no. June, p. 65, 2016.
L. Alemu, Y. A. Ambelie, and M. Azage, "Contraceptive use and associated factors among women seeking induced abortion in Debre Marko ' s town , Northwest Ethiopia: a cross-sectional study," Reprod. Health, vol. 17, no. 97, pp. 1–8, 2020.
SDKI, "Survey Demografi dan Kesehatan Indonesia," Survei Demogr. dan Kesehat. Indones., 2017.
K. Omona and W. Namuli, "Factors influencing utilization of intra-uterine device among postpartum mothers at Gombe Hospital, Butambala disrtict, Uganda," Cogent Med., vol. 7, no. 1846264, pp. 1–20, 2020.
N. Dereje, B. Engida, and R. P. Holland, "Factors associated with intrauterine contraceptive device use among women of reproductive age group in Addis Ababa, Ethiopia: A case control study," PLoS One, vol. 15, no. 2, pp. 1–12, 2020.
A. D. R. Fitrianingsih and S. Melaniani, "Faktor Sosiodemografi yang Memengaruhi Pemilihan Metode Kontrasepsi," J. Biometrika dan Kependud., vol. 5, no. 1, pp. 10–18, 2016.
W. T. Sitohang, U. Malinta, A. M. Tahir, E. Hartono, and A. Seweng, "Factors Influencing The Use Of Postpartum Intrauterine Device (IUD)," Eur. J. Mol. Clin. Med., vol. 07, no. 07, pp. 1117–1122, 2020.
B. S. D. Aningsih and Y. L. Irawan, "Hubungan Umur, Tingkat Pendidikan, Pekerjaan Dan Paritas Terhadap Penggunaan Metode Kontrasepsi Jangka Panjang (MKJP) Di Dusun III Desa Pananjung Kecamatan Cangkuang Kabupaten Bandung," J. Kebidanan, vol. 8, no. 1, pp. 33–40, 2019.
S. Christiawan and W. Purnomo, "Faktor yang Berhubungan dengan Penggunaan Intras Uterine Device (IUD) di Pusat Pelayanan Keluarga Sejahtera (Pusyan Gatra) Tahun 2016," Jurnal Biometrika dan Kependudukan, vol. 6, no. 1. pp. 79–87, 2017.
L. Rizki, B. T. Husodo, and S. BM, "ANALISIS FAKTOR YANG BERHUBUNGAN DENGAN PERILAKU PENGGUNAAN METODE KONTRASEPSI JANGKA PANJANG PADA AKSEPTOR KB AKTIF DALAM PROGRAM KAMPUNG KB (STUDI KASUS DI KAMPUNG KB KOTA SEMARANG," J. Kesehat. Masy., vol. 6, no. 5, pp. 760–768, 2018.
D. I. Pertiwi, "FAKTOR-FAKTOR YANG BERHUBUNGAN DENGAN PENGGUNAAN METODE KONTRASEPSI JANGKA PANJANG DI KECAMATAN GONDOKUSUMAN," Univeritas 'Aisyiyah Yogyakarta, 2016.
N. Chaudhury, Mohd.Tariq, and A. Singh, "Determinants of IntraUterine Device Usage among Women in Reproductive Age in Three States of North India," Int. Union Sci. Study Popul., 2013.
A. Gafar, D. E. Suza, F. Efendi, A. P. Pramono, I. A. Susanti, and E. Mishbahatul, "Determinants of contraceptive use among married women in Indonesia," F1000Research, vol. 9, no. 193, pp. 1–9, 2020.
A. Septyarum, "Hubungan Pendidikan, Pengetahuan, Usia dan Dukungan suami dengan Pemilihan Kontrasepsi IUD di Desa Tanggan Gesi Sragen," Sekol. Tinggi Ilmu Kesehat. Aisyiyah Yogyakarta, 2014.
B. Susilowati, C. Wekadigunawan, and B. Murti, "Factors Associated with Use of Intra-Uterine Device in Women of Reproductive Age in Boyolali, Central Java," J. Matern. Child Heal., vol. 3, no. 4, pp. 252–260, 2018.
R. P. Putri and D. Oktaria, "Efektivitas Intra Uterine Devices (IUD) Sebagai Alat Kontrasepsi," Fak. Kedokt. Univ. Lampung, vol. 5, no. 4, pp. 138–141, 2016.
I. Tambunan, U. Sabarudin, H. Sukandar, and U. Padjajaran, "Women ' s Influencing Factors in Choosing the IUD Contraception Method," vol. 3, no. 2, pp. 47–58, 2014.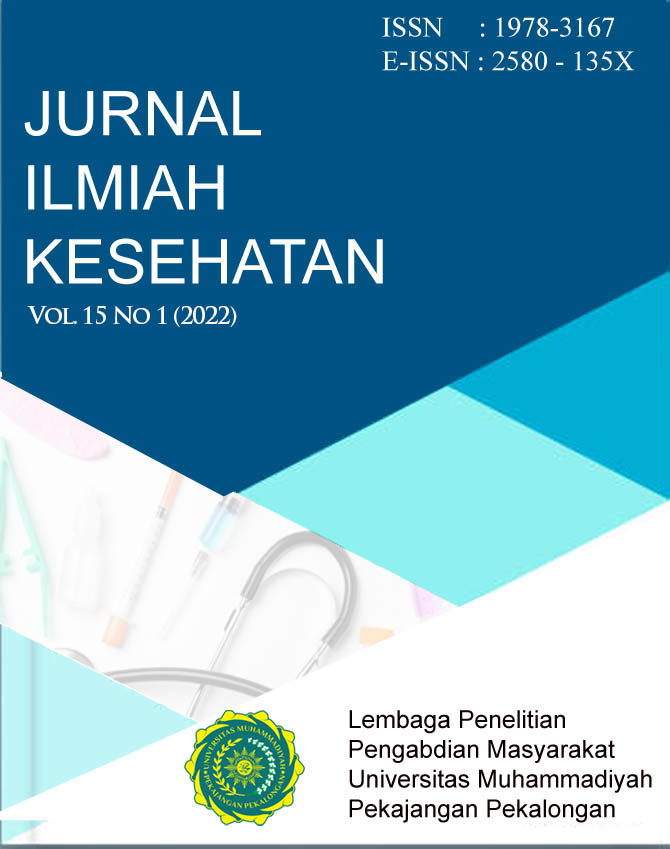 Downloads